Book Review: Black Rednecks and White Liberals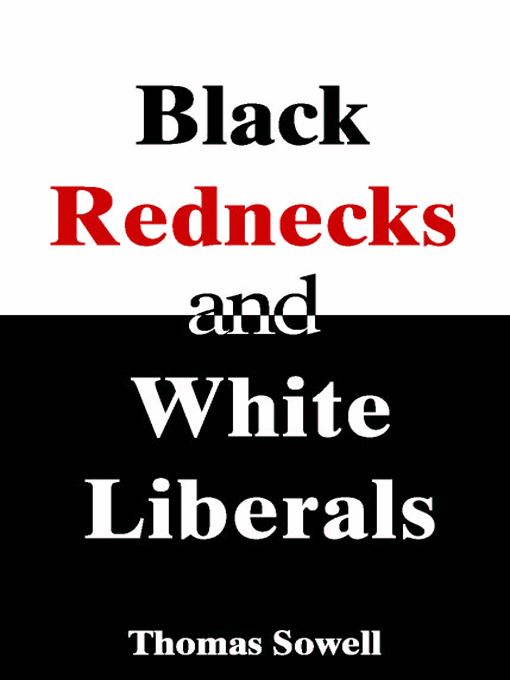 Sowell, Thomas.
Black Rednecks and White Liberals.
San Francisco; Encounter Books, 2005.
This book is a collection of essays, so I'll review them one at a time:
Black Rednecks and White Liberals
In this essay, Sowell argues that what we consider "black" culture today is actually derived from the Scotch-Irish culture of colonial times. It sounds somewhat plausible, but I have absolutely no outside references with which to evaluate it, and I just don't care enough to do so.
His argument takes the form: (a) this is what we describe as black culture, (b) this is where it came from, (c) this is why it is harmful then and now. I think his argument would have been much stronger had he left out section b, which was, however, the theme of the essay. However, can you imagine the response to this chapter had section b not been included? If you said, effectively, that the black subculture is counter-productive, the familiar refrain of "blaming the victim" would be raised to the heavens. However, by saying that it was a white culture which was transmitted to blacks, the onus can still be shifted.
One of the particularly good bits from this is that you can determine whether a culture or subculture is individualist or collective based on the kind of achievements. Individualist cultures produce individual achievements, such as sports or entertainment, where the ability of one individual is the measure of success. Collective cultures produce collective achievements, such as mathematics, which requires the resources of a group to allow an individual to specialize in a field which requires long-term, upfront costs.
Are Jews Generic?
Sowell argues that anti-Semitism is not unique, but is rather the most readily apparent for of discrimination against what he terms middle-man minorities. A middle-man minority tends to enter a society at the bottom of the ladder, and enters those activities with few barriers to entry, such as shopkeeping. As there are few barriers to entry, competition is fierce and wages are low, making those activities the kind of work that the natives "just won't do." The way to succeed in such a field is to work longer and harder and better than anyone else.
The animosity, according to Sowell, comes in the later stages when the middleman minorities have achieved success. It is a hard thing to say, "They prospered because they worked harder, longer, and better than I did." It reflects poorly on your own character. Much easier, from a self esteem point of view, is to ascribe such performance to negative characteristics on the other's part: they're greedy, cheaters, and collude with each other.
Sowell doesn't make this point, but the same characteristics that lead to success also create an insular community. Cross-cultural communication is hard and time consuming. When you're devoting every waking minute to making a living, it's easier to communicate internally. Thus the bridges are never built.
The particularly good bit is the idea that middle man minorities also value education for the same reason they make good business owners--it's a long term investment that requires lots of work and large costs upfront. If you have an immediate timeframe, you're not going to spend 22 years in school.
The Real History of Slavery
What was interesting about this one was that even though I knew the history of slavery, I hadn't drawn it together in this manner before. Colonialism destroyed slavery. Slavery was a universal arrangement in human societies. It was the western world that had a crisis of conscience and banned slavery, and then the colonial powers destroyed the slave trade throughout the world. According to Sowell, Britain almost went to war with the Ottoman empire to make them end the slave trade in their territory. The western powers may have been the largest scale slavers--since slavery is caused by vulnerability, and everyone was vulnerable to Europe--but they were also the largest slave freers.
The particularly good bit for this one was his blaming the Declaration of Independence for creating racism in America. In no other country was there the ideological disconnect between slavery and "all men created equal." Since they obviously weren't equal, racism was needed to make slaves less than men.
Germans and History
I don't have enough of a background to evaluate all his claims, but Sowell argues (and it seems plausible) that the Germans were known for their friendly relations with the Jewish people prior to Nazism--so much so that Jewish-American newspapers were investigated in WWI for being too pro-German. It sounds plausible, and it explains why German had such a comparatively large Jewish population pre-war.
I guess the particularly good bit from this one would be from Scripture "Let he who thinks he stands take heed lest he fall."
Black Education Achievements, Myths, and Tragedies
This one was preaching to the choir for me. In S.A.T. style, a teachers union is to teachers as America is to Americans. People around the world love Americans individually--it's just in collective sense that Americans are disliked. His argument is nothing new--it's not like children have not been educated successfully around the world for centuries. It is a particular failure of America's public schools and that lower-class Americans do not have the resources to opt out of failing schools.
Labels: Book reviews