Book Review: Russian Folk-Tales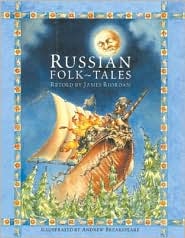 Riordan, James.
Russian Folk-Tales.
New York; Oxford University Press, 2000.
This was in the kids section at my library. Someone needs to tell librarians that classic folk tales are not really appropriate for children. The skulls with the glowing eyes that char people to cinders? Yeah, that's gonna give nightmares.
Anyway, it shows just how far we've come. Sibling rivalry used to be a deadly game. Children weren't friends, they were competitors.
It was also interesting the role the Tsar played in these. He was a hidden instigator of many of the changes and quests that started the stories. I suppose that's how the typical Russian experienced the Tsar. A power from afar that on a whim could turn their world upside down.
Labels: Book reviews